La campagne "The Perfect Match" pour SD Worx gagne le Belgian HR Award dans la catégorie Communication Interne
Mercredi 20 avril 2016 — The Oval Office a remporté hier soir un Pioneer Award lors des Belgian HR Awards, une initiative de Trends Tendances et Canal Z. La campagne de communication live The Perfect Match conçue pour SD Worx, a gagné dans la catégorie de Communication Interne. La campagne créative a renforcé le lien entre SD Worx et ses clients PME. En travaillant pendant une journée pour l'un de leurs clients, 420 employés de SD Worx ont eu l'opportunité d'apprendre à connaître chacune de ses entreprises de l'intérieur.
La campagne a déjà obtenu un Award d'Or lors de l'EuBea Festival, les prix les plus prestigieux dans le secteur de la communication live en Europe.
SD Worx - The Perfect Match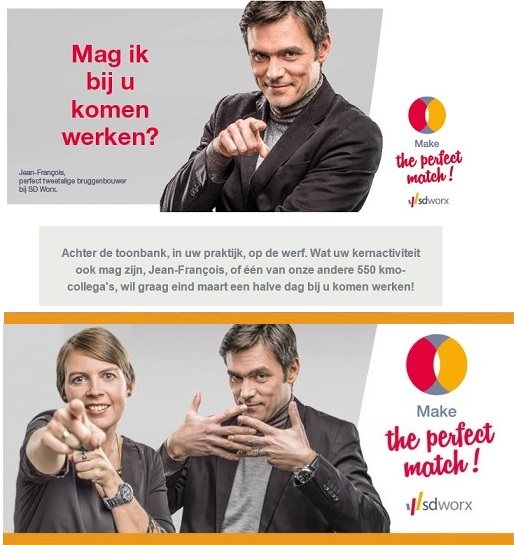 Contactez-nous
Barbara Verougstraete
The Oval Office
Barbara Verougstraete
The Oval Office